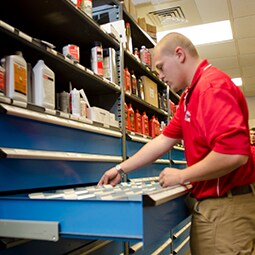 Genuine Ford Parts and Accessories, Expert Advice and Assistance: That's the Ronnie Watkins Way!
As strong, solid, and steady as it is, your Ford F-150, Fusion, Escape, Edge or Transit Connect is truly a complex and delicate machine. Each and every part of the whole is working tirelessly to keep you moving along in Gadsden, Centre, Rainbow City and Jacksonville: the radiator and cooling system is maintaining the temperature of your engine, which is powering the forward movement of your car, which is being calculated and monitored by your car's computer. Like your own body, your car is performing literally thousands of functions when in motion. And, also like your body, sometimes the parts performing need a little bit of maintenance.
We maintain our bodies with healthy food, exercise, vitamins, etc. Cars are a little bit easier; if a part is getting worn out or breaks, we can just replace it! And at Ronnie Watkins Ford near St. Clair, Calhoun, Cherokee, and Blount County, we pride ourselves on having all of the genuine OEM parts and accessories that you need to keep your car, truck, or SUV in great shape. Our Gadsden dealership near Marshall County offers an in-house parts department, so whether your vehicle needs replacement, performance, or custom parts during service or you just want to swing by and pick up a few things, we make it easy.
Use our convenient order form below if you already know the numbers of the parts you need; if you only know them by name, feel free to contact us for assistance! And if you're not even sure which parts need to be replaced, don't hesitate to give our service center near Blount and Cherokee County a call to ask a question or schedule an appointment.